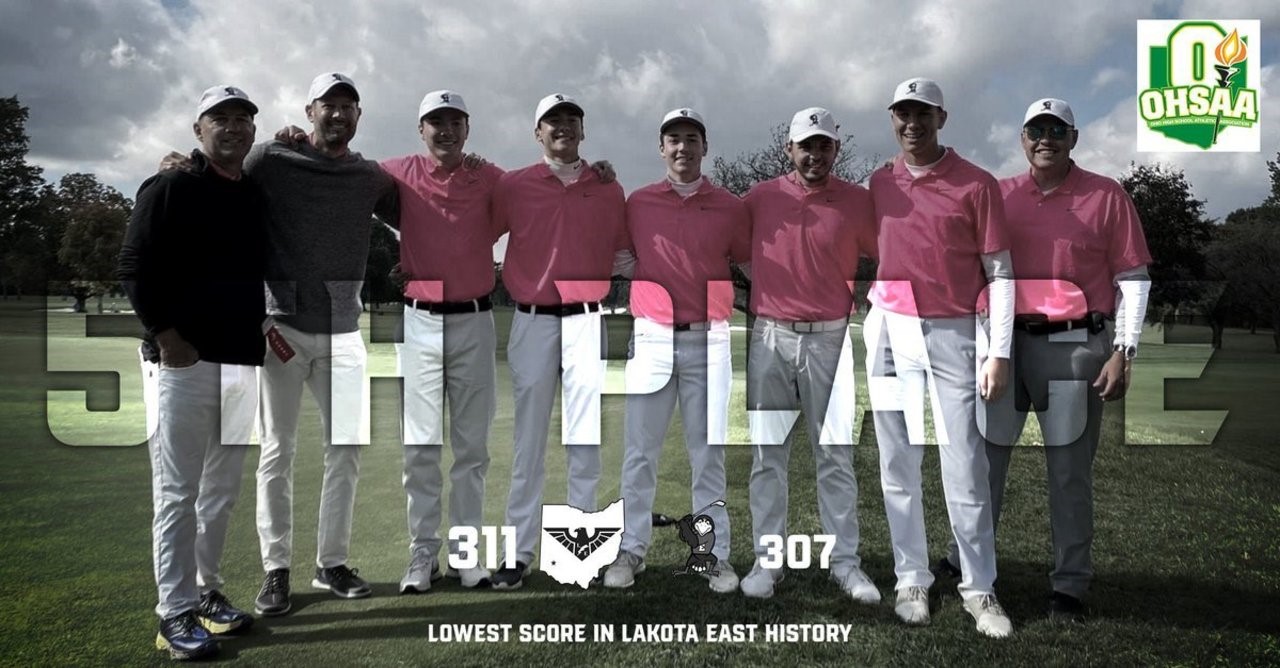 BOYS GOLF 5TH AT STATE!
WILSON BECOMES 3RD LAKOTA STATE TITLEIST

It was a special weekend for the Lakota East Boys Golf program and senior standout Joe Wilson IV. Wilson led his team to a 5th place finish at the OHSAA State Championships and individually made the Lakota District history books claiming a Division 1 State Title. Wilson joins Korey Ward (Lakota West) as the third Lakota District boys golf athlete to win medalist at the State Championships. Ward won titles in 2008 and 2009, also finishing 3rd overall in 2010.
Other Lakota boys golfers with notable state finishes:


Mike Larbes, Lakota, T10 1986

Kenton Hobbs, Lakota West, 2nd 2000

David Tepe, Lakota East, T3 2008

Wilson shot a 69 at the OSU Scarlet Course on Friday, which proved to be the lowest round by any golfer over the Friday and Saturday tournament. He shot a 74 on Saturday, clinching a co-medalist spot with Cleveland St. Ignatius golfer Topher Reed.

Wilson is a two-time 1st Team All-State recipient. He is the second-consecutive Cincinnati boys golfer to medal at the Division I state tournament. Wilson finished in a tie for 18th last season in 2020 but was a top-five finisher as a sophomore in 2019.

East finished 5th overall at the tourney, shooting 311 on Friday and 307 on Saturday for their best scores ever at State (618) in seven overall appearances. Other notables for East are below:

TY Sylla fired a 79-74

Jake Curry 81-75 (12 straight pars on day 2)

Bobby Horseman 82-84 (soph) who didn't play golf last year due to injury

Cameron Uhl 82-85

Cleveland St. Ignatius was the overall state team champion with a two-day total of 591. East had the best finish of any local school topping 6th place Mason (627) by 9 strokes. Elder was 7th overall with a score of 642.

"I am super proud of how far this team has come, and how they battled with class to the end of every event," said East head coach Jeff Combs. "The 4 seniors put such a positive stamp on their legacy with East Golf—and shot the best 2 day total of any East Golf team at state!"

CONGRATULATIONS TO ALL THE PLAYERS AND COACHES FOR ANOTHER BOYS GOLF SEASON TO REMEMBER!

*** special thanks to Lakota SID historian Bob Ashby for his contributions to this release.