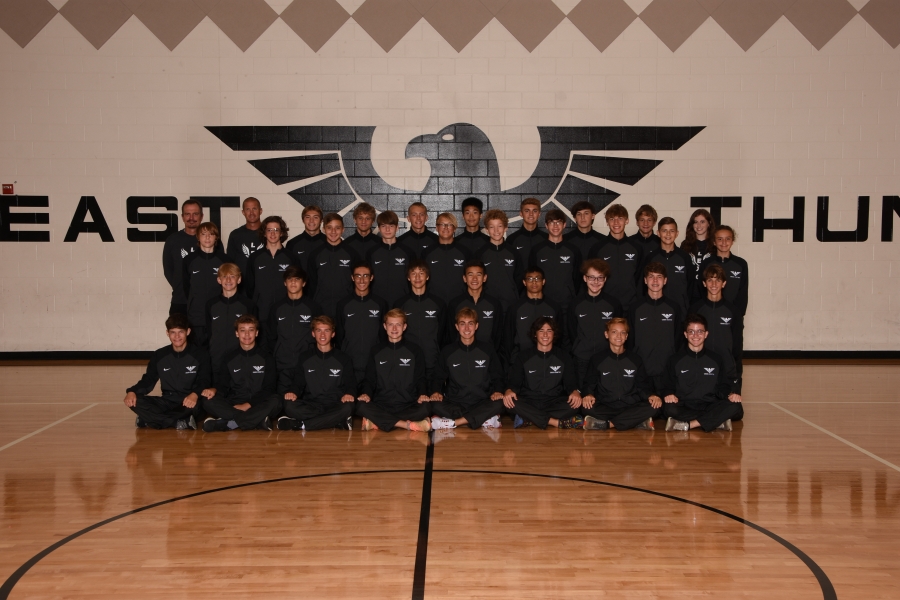 EAST QUALIFIES TO REGIONAL

The Lakota East men's cross country team brought home the District Runner-Up trophy, punching their ticket to the Regional Championships next week. The top 5 teams in their race qualified. Leading the way for the Hawks was senior, Will Tenoever, who ran the 10th fastest time in school history of 16:08.2 for the 5k Championship course. This placed Tenoever 10th out of 115 runners.
Will's senior teammate, Ashton Gibbs, was the next Hawk across the line in 21st place in a time of 16:47. Junior, Marshall Novean, overcame a shoe malfunction to place 26th overall in 16:59. Sean Castillo, junior, ran his lifetime best performance as the fourth Thunderhawk finisher. Castillo's time was 17:01 for 27th place.
Also running his lifetime best was freshman Evan Aponte, who ran 17:21 in 38th place as the fifth and final scorer for East. Juniors, Jake and Nick Boeskool, were the sixth and seventh runners for Lakota East placing 56th and 61st respectively in 17:43 and 18:01.

The men's team will represent Lakota East next week at the Regional Cross Country Championships.

The OHSAA Regional Championships will be held Saturday, Oct. 30th at Hobart Arena in Troy, Ohio. The top 5 teams and top 20 individuals will qualify for the State Championships at Fortress Obetz and Memorial Park, Obetz, Ohio on Saturday, November 6th. The Division 1 men's race will begin at 4:00 p.m.