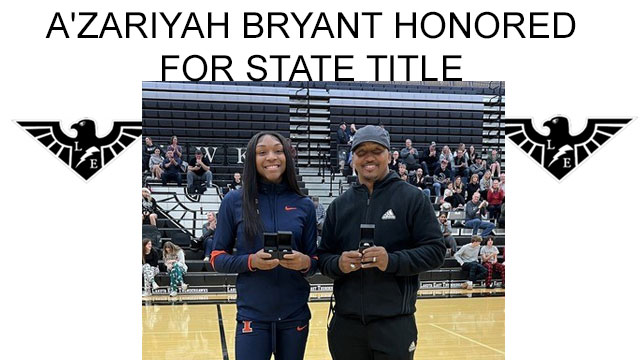 EAST STANDOUT A'ZARIYAH BRYANT
STATE TITLE CELEBRATION!
Lakota East Track star and standout, A'Zariyah Bryant was formally recognized for her outstanding career at half-time of the boy's basketball game on Thursday, Dec. 22nd. Bryant is a 3-time, 2022 Division 1 Girls Track and Field State Champion.
During her time at East, A'Zariyah was a 2-time GMC Runner of the Year and won 8 GMC Titles. She is the East record holder in the 100m dash with a time of 11.60 seconds and also a record holder in the 200m dash with a time of 23.91 seconds.
A'Zariyah was also part of the East 4X100 relay team that won a state title and set the Ohio state record in 2019 with a time of 45.82 seconds.
Last spring, she was an OHSAA State Champion in both the 100 and 200m dashes with times of 11.60 and 23.85 seconds.
A'Zariyah currently attends and runs for the University of Illinois. Both A'Zariyah and head coach Rodney Heath were presented with their State championship rings.
A very special thank you to the Lakota East Athletic Boosters for their support and funding of the evening's festivities.