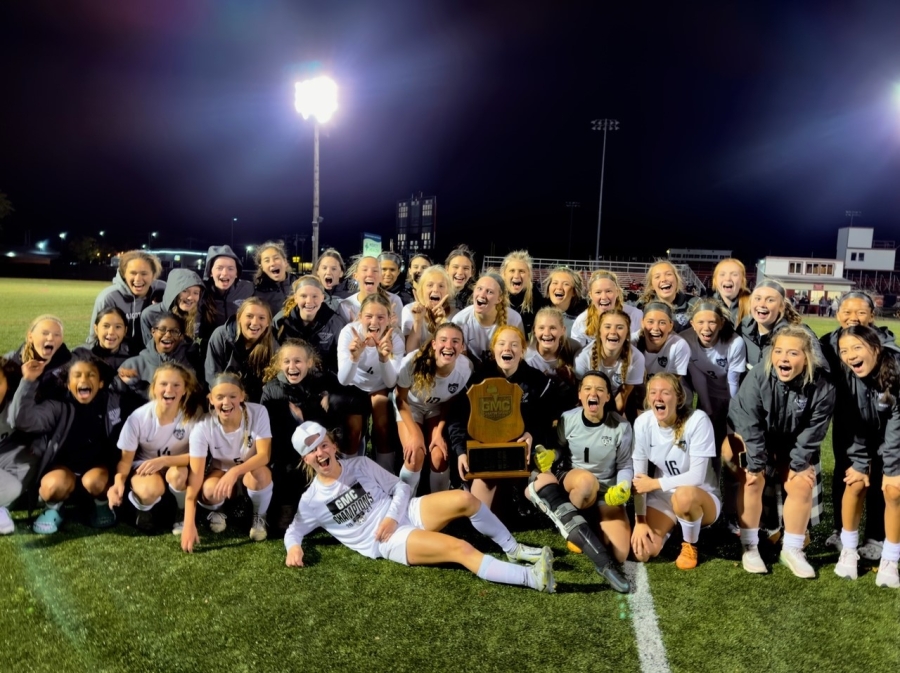 HAWKS DEFEND 2021 LEAGUE TITLE
The Thunderhawk Girls Soccer team captured a share of the GMC title with a 4-2 victory on the road versus Fairfield HS on Thursday night. This marks the 2nd season in a row the Hawks have shared the GMC title. Last season it was shared with Mason, this season Oak Hills and East share the 2022 title. The Hawks finish the regular season with a 7-1-1 mark in the GMC and 9-6-1 overall.
The girl's soccer program has now won or shared the league title 5 times in its 26-year GMC history. See below
2000-Fairfield and Lakota East
2003-Fairfield, Lakota East, Lakota West
2005-Lakota East, Sycamore
2021-Lakota East, Mason
2022-Lakota East, Oak Hills
On a gusty and drizzly night on Thursday, the Indians took the opening kickoff and punched in a goal after just 29 seconds putting the Thunderhawks on their heels.
Lauren Sullivan (Senior) opened the scoring to even the score 1-1. Shortly after Lauren Sullivan was fouled in the box earning a shot from the spot and the kick was taken by Senior Marissa Retzsch who buried a low drive into the corner. The Indian knotted things up at 2-2 shortly after the second half started.
Junior Jessa Bush put the Hawks ahead for good about midway into the second half with a shot from a distance that the Fairfield keeper was unable to stop. The Hawks earned a corner and the service by Senior Sophia Perrino was headed in by Senior Erica Cox who also had an assist in the Bush goal.
The Hawks battled back in what turned out to be a classic match with the GMC title on the line. After 80 minutes of intense play back and forth the Hawks came up on the plus side and the title with a 4-2 victory.
The Hawks earned back-to-back GMC titles for the first time in program history led by a Senior class that went undefeated as JV Freshmen, had double-digit wins in their Sophomore year, and then finished up with consecutive titles.
East girls drew the #10 seed in the upcoming postseason tournament. They will host district rival Lakota West(14 seed) in an opening-round match on Saturday, Oct. 22nd.