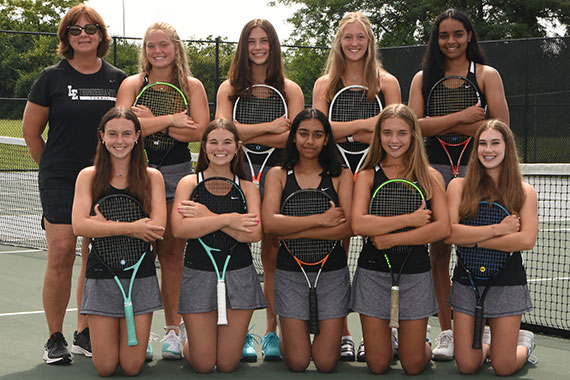 East Girl's Tennis earned a 5-0 GMC win versus Fairfield on Thursday. See scores below:
Reagan Gilbert v Talia Nichols 6-4, 6-4
Natasha Kejriwal v Jaden Mazuk 6-0, 6-1
Kelsey Retzsch v Aryn Whittle 6-1, 6-1
Kirsten Kusel/Abigail Price v Kaori Wood/Lily Mefford 6-0, 6-0
Amisha Kejriwal/Mary Claire Schadek v Maliah Jett/Naima Ashford 6-1, 6-1
Next up for East is the Coaches Classic beginning TODAY, Friday at the Mason courts at 4 pm. East will be competing in Flight C against the teams below:
Loveland
Mason C
Seven Hills
The event will conclude on Saturday, 9/24 starting at 8:00 AM.
GMC Tourney is next Thursday and Saturday. See details below:
GMC Girls Tennis Tournament Schedule
*GMC Tournament comprises 50% of the conference championship with the remaining 50% being the results of the "head-to-head" matches between league schools.
The Mason Comets are defending league champions, having won 7 consecutive Greater Miami Conference titles.
Day 1: Thursday, September 29th @ Mason Tennis Courts
Coaches Meeting – 7:30 AM
Play begins at 8:00 AM
Day 2: Saturday, October 1st @ Mason Tennis Courts
Play resumes at 8:00 AM
Rain Date: Sunday, October 2nd @ Mason Tennis Courts
Play begins at 2:00 PM